Ukrainians search grave site for relatives after Russians driven out
September 18, 2022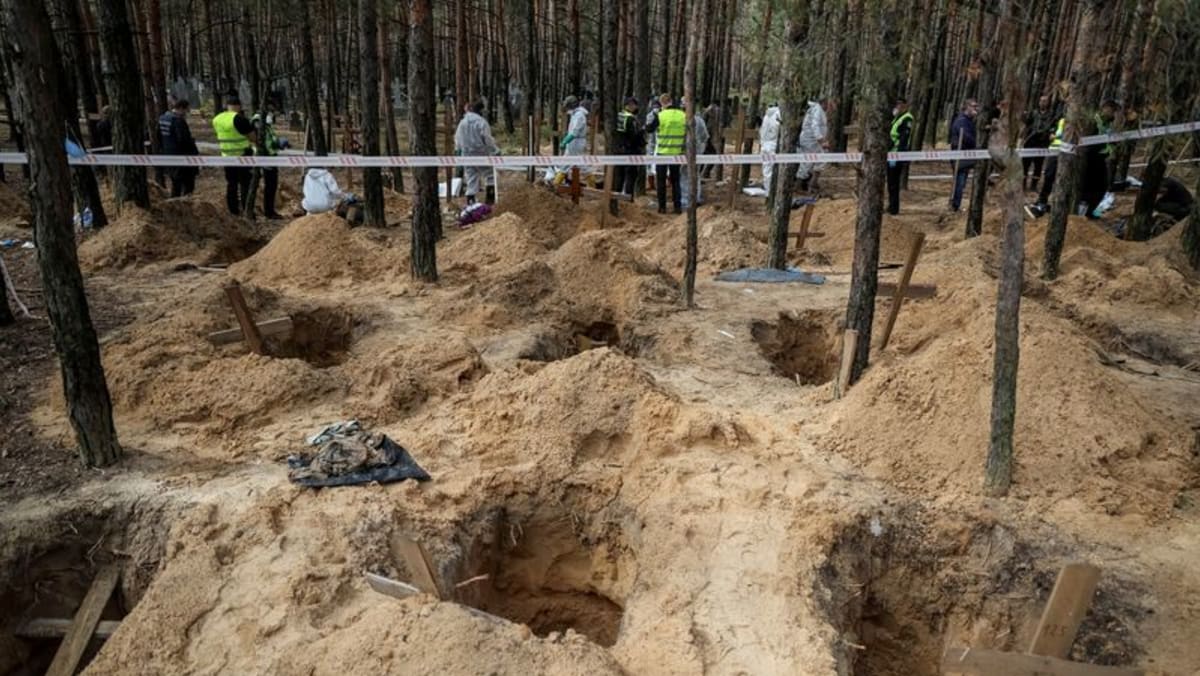 Clutching a neatly written list of names and numbers, resident Volodymyr Kolesnyk stepped between graves looking for relatives he said were killed in an airstrike on an apartment building shortly before Izium fell to Russian forces in April.
Kolesnyk said he knew his relatives had been taken to the burial site and were in some of the graves marked with numbers.
He paused before a cross marked with the number 199 and after checking the list given to him by a local funeral company that dug the graves, carefully hung a small sign on it bearing the name of Yurii Yakovenko, his cousin.
Cross number 164, he said, was his cousin's wife. And 174, his cousin's mother, Kolesnyk's aunt.
"They buried the bodies in bags, without coffins, without anything. I was not allowed here at first. (The Russians) said it was mined and asked to wait. And there was a lot of them in the woods, so it was scary to come here," Kolesnyk told Reuters.
MOSCOW DENIES ATROCITIES
Moscow has not commented on the discovery of the graves. It regularly denies committing atrocities in the war or targeting civilians.
The head of the pro-Russian administration that abandoned the area earlier this month accused Ukrainians of staging the atrocities at the city of Izium. "I have not heard anything about burials," Vitaly Ganchev told Rossiya-24 state television.
Russian President Vladimir Putin has not responded to the accusations but he brushed off Ukraine's swift counteroffensive, casting Russia's invasion as a necessary step to prevent what he said was a Western plot to break Russia apart.
"The Kyiv authorities announced that they have launched and are conducting an active counteroffensive operation," Putin said on Friday after a summit of the Shanghai Cooperation Organisation in the Uzbek city of Samarkand. "Well, let's see how it develops, how it ends up," he said with a grin.
Putin has warned Moscow would respond more forcefully if its troops were put under further pressure, raising concerns he could at some point use unconventional means like small nuclear or chemical weapons.