Barcelona
With its fabulous fusion of Modernista masterpieces, multi-layered history, plaza-dotted barris (neighbourhoods) and one of Spain's most thrilling gastronomic scenes, the Catalan city remains one of Spain's most irresistible destinations.
Venture beyond the busy Ciutat Vella (old city) to buzzy emerging neighbourhoods, such as Sant Antoni and Poblenou, which both have a raft of creative cafes, concept boutiques, independent restaurants, vermouth bars and lively markets. In Sant Antoni, head to Italian Benzina, brunchy Federal and vermouth-loving Bar Calders, along with the revamped 19th-century market, which has inspired other restoration projects across town.
Poblenou's leafy rambla is a laid-back cafe-dotted hangout, with Little Fern and Can Recasens among the area's favourite haunts; the arty Hoxton Poblenou hotel has just opened in this part of town, and the silky, lesser-known beaches here are overlooked by seafood-fired chiringuitos, including rice dish haven Xiringuito Escribà. Over in boutique-filled L'Eixample, a clutch of tempting new restaurants have landed – including Amar Barcelona by Rafa Zafra and farm-to-table Catalan-Japanese spot Brugarol.
For the most inspiring views of Barcelona's urban landscape, head up to the Parc Natural de Collserola in the north of the city, where hillside hikes weave through peaceful pine forests and along the wonderfully scenic Carretera de les Aigües.
Shopping in Catalonia's capital? UK travellers can claim tax refunds of up to 15.7%, with extra benefits at department store El Corte Inglés – from a 10% reward on the total of all purchases loaded on to a gift card, to Avios points (see below left for more information). El Corte Inglés Barcelona, Avda. Diagonal, 617-619, 08028 Barcelona
Bilbao
Extending from its lively, tangled Casco Viejo, the Basque country's industrial powerhouse now doubles as one of Spain's unmissable cities for art and architecture lovers, as well as anyone interested in exploring northern Spanish gastronomy.
Wander along the Ría del Nervión, soaking up the wonderfully varied building styles, the statement bridges (including the web-like Puente Zubizuri by Valencian architect Santiago Calatrava) and the waterside sculptures, before diving into the game-changing Museo Guggenheim Bilbao, dazzlingly designed by Frank Gehry in the 1990s. Then hit the pintxo bars, from Plaza Nueva classics under the arches (Gure Toki, Casa Víctor Montes) to Ensanche favourites such as El Globo and La Viña del Ensanche. At the Mercado de La Ribera, you can go shopping for fresh ingredients, then dine opposite at rustic chic Michelin-starred Mina. For a luxury retreat in the heart of the city, book in at the 20th-century Hotel Carlton.
If you're keen to get out into the Basque country's wide-open natural spaces, the Urkiola Parke Naturala, just 30 minutes' drive south-east, makes a rewarding on-the-doorstep day trip; you can hike up 1,331-metre-high Anboto, one of the region's most adventure-packed peaks with its spine-tingling limestone ridge.
Make time between museum hopping and getting into Basque cuisine for some shopping – with all the benefits for UK shoppers – at El Corte Inglés. El Corte InglésBilbao, Gran Vía, 7 y 9, 48001 Bilbao, Vizcaya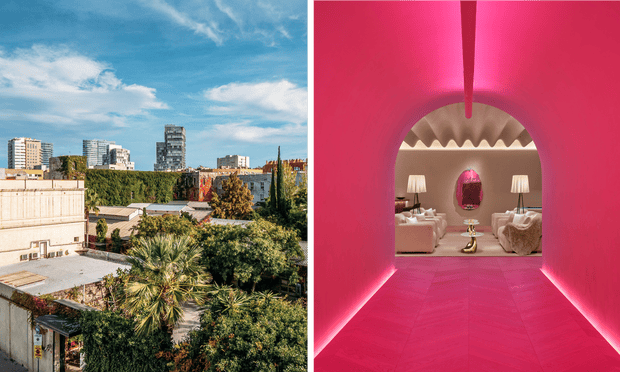 Madrid
There's no stopping the stylish, food-loving Spanish capital, which has been busy welcoming a non-stop line-up of luxe hotels over the past couple of years: testament to the city's very chic shake-up.
From the Madrid Edition (a reimagined 1980s bank in Sol) and the Mandarin Oriental Ritz (an elegantly restored 20th-century beauty opposite the Parque del Buen Retiro) to the Four Seasons Hotel Madrid (with chef Dani García on board with his swish brasserie Dani), all have wonderful food and drink offerings that have become a hit with the local crowd.
Alternatively, join the Madrileños in the northern neighbourhood of Chamberí, home to the cafe-lined Plaza de Olavide and unbelievably popular Calle de Ponzano, with its creative cocktail bars, craft beer hangouts and top tapas spots; don't miss trendsetting Sala de Despiece, long-established Bodega de la Ardosa or innovative Le Qualité Tasca. The surrounding streets make up one of Madrid's greatest shopping pockets, with antiques boutiques, specialised bookshops and other independent jewels.
Finally, to the north-east of the city, visitors will find DiverXo by Dabiz Muñoz – a Madrid sensation with three Michelin stars. The avant-garde Madrileño chef is considered one of the world's best – he has also expanded to the more accessible StreetXO and has recently opened RavioXO, which you can find in El Corte Inglés Castellana.
Find StreetXO at El Corte Inglés Gourmet Experience Serrano – part of an elevated culinary offering of Michelin-helmed restaurants and artisanal Spanish ingredients in select El Corte Inglés stores across the country. El Corte Inglés Serrano, C/ Serrano, 47, 28001 Madrid; El Corte Inglés Castellana, C/ de Raimundo Fernández Villaverde, 65, 28003 Madrid
Marbella
Queen of Andalucía's Costa del Sol, Marbella is also an ancient town in a naturally spectacular Mediterranean spot, where Roman remains and Moorish architecture provide a foil for pristine yachts, smart shops and high-end hotels.
Get a taste with a stroll through the impressively preserved, whitewashed old town, whose geranium-studded alleys revolve around the 15th-century Plaza de los Naranjos and a Moorish-era alcazaba built back in the 10th century. A collection of new luxury boutique hotels, La Ciudadela is now sensitively bringing fresh life to several centuries-old buildings here, all surrounded by glitzy restaurants and ultra-chic boutiques that overflow with Andalucían ceramics, boho glam dresses and beautiful handcrafted straw baskets.
The rugged Sierra Blanca mountains looming right behind Marbella are filled with thrilling walking trails; try tackling La Concha or Cruz de Juanar. And Spain's newest national park, the 20,000-hectare Parque Nacional Sierra de las Nieves awaits just half an hour's drive inland; officially declared in 2021, this serene mountain playground is known for its forests of rare pinsapos (Spanish firs), which exist only in southern Andalucía.
Pick up a Puerto Banús-ready outfit – with your VAT refund and that El Corte Inglés gift card – at El Corte Inglés Marbella, C/ Ramón Areces, s/n, Puerto Banús, 29660 Marbella, Málaga, where you'll also find southern Spain's own Gourmet Experience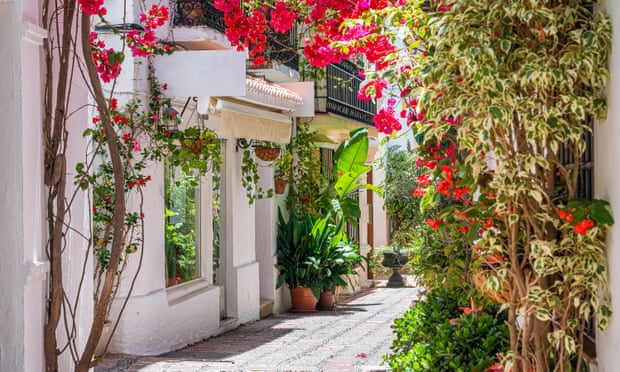 Valencia
Named World Design Capital recently for its unstoppable Mediterranean-inspired creative scene, and with major sustainable tourism plans to become a carbon-neutral destination by 2025, Valencia is making a paseo into the spotlight.
Spain's third largest city combines a sunny vibe with an endlessly engaging old quarter (especially around ancient El Carme), a thrilling stash of museums and some of the best drinking and dining in the country. Catch a glimpse of Valencia's arty soul in lively Russafa, south from the Ciutat Vella, where you'll find vintage boutiques, cutting-edge galleries, soulful bookshop-cafes, artists' studios and local crafts (from hand-painted fans and artisanal wicker baskets to chic Spain-made fashion). There's also a rainbow-coloured 1950s market (courtesy of Júlio Bellot Senet), Parc Central (a refreshing green space sprinkled with old railway buildings), and some of the city's best places to eat and drink: from literary-themed Ubik Café, to innovative gourmet Dos Estaciones and Ricard Camarena's Canalla Bistro.
Elsewhere, cycling around the meandering Jardines del Túria – the 5.5-mile-long parklands ingeniously created from the city's disused riverbed in the 1980s after it was diverted – is the most rewarding way to explore, taking in the otherworldly Calatrava-designed Ciutat de les Arts i les Ciències. For a five-star sleep with style, settle in at Only You Hotel Valencia, with interiors by Lázaro Rosa-Violán.
Visiting Valencia? Stop for a shop at El Corte Inglés Valencia, C/ Pintor Sorolla, 26, 46002 Valencia, for fashion brands (with tax refunds for UK shoppers) and the famous food court