Commonwealth Games 2022: hockey, diving, athletics and more – live!
August 5, 2022
Hockey: Close! England have a couple of penalty corners but are thwarted by the kiwi keeper who throws herself around the goal to deny the home team. Tick follows tock – about nine minutes to go before we reach the dreaded P word.
Hockey: Less jolly hockey sticks and more squeaky bum time over at the University where the women's hockey semi final between England and New Zealand is still deadlocked at 0-0. The final quarter has just begun.
Are we heading for penalties? Or a Super-Over maybe?
Diving: Canada's Mia Vallee takes Gold in the 1m springboard final, Australia's Brittany Mae O'Brien gets the Silver and – with a fantastic, nerveless final dive – England's Amy Rollinson grabs the Bronze!
"Gutsy, gritty, and determined" says the commentator of the 18-year-old from Luton.
Sean Ingle is soaking it all up in Birmingham. Here's his preview of what could be a 'super Saturday' MK II.
Diving: Great fourth dive from England's Amy Rollinson who notches up a 61.50 from the judges to see her work her way into fourth place as it stands. She'll need a barnstormin' final dive to be in with a chance of getting on the podium.
I saw this earlier and it blew my mind. Well worth a watch:
Hockey: Half time in the women's semi final – New Zealand 0 England 0. A bit of a disjointed, nervy affair so far.

Diving: In the women's 1m springboard final England's Amy Elisabeth Rollinson has slipped down to sixth place after three rounds. Grace Elizabeth Reid of Scotland sits above her and then it is the Aussie trio of Esther Qin, Georgia Sheehan and Brittany Mae O'Brien in fourth, third, second respectively. Canada's Mia Jolie Doucet Vallee is in the gold medal position and 19 points clear of the crowd. Two rounds to go!

Cycling news:
Hockey: It's still all square in the women's hockey semi-final between England and New Zealand, it's been a frenetic start but is still goalless half-way through the second quarter. Feels like there is a big moment coming…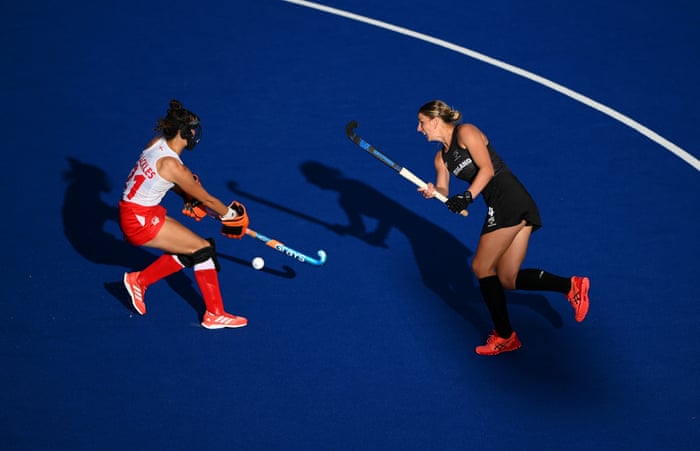 The women's hockey semi-final between England and New Zealand is goalless after the first quarter while at the aquatics centre, England's Amy Rollinson leads the 1m women's springboard final after the first round.

Gymnastics gold for England's Marfa Ekimova! The 17-year-old has held on after the floor exercises in the all-round final, beating Cypriot Anna Sokolova by 0.200 points. She becomes the first English athlete to win Commonwealth gold in rhythmic gymnastics.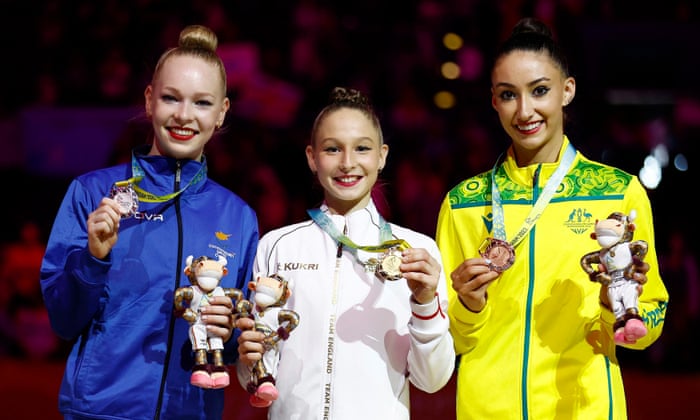 England are into the men's beach volleyball semi-finals! The Gambian pair won the second set 22-20, but England prevail in the tie-break set after a dramatic match point where the Bello twins twice dug the ball out before finding a gap.

England advance to the semi-finals, where they will play Canada or Cyprus. The other semi-final will see Australia against Rwanda, the African nation shocking New Zealand in their earlier quarter-final.

Over at the Coventry Arena, George Ramm has won bronze for England in the men's freestyle wrestling after beating Nauru's Lowe Bigham. The 65kg category final saw India's Bajrang Punia defeat Canada's Lachlan McNeil to win gold.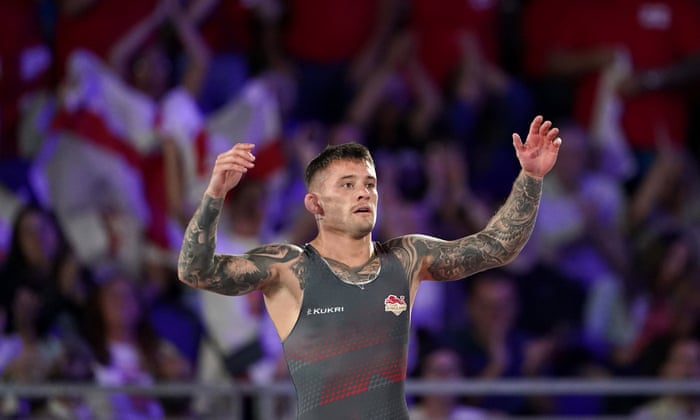 "Runner's dreams crushed by own penis…" as far as sporting headlines go this is certainly up there. The 'problem' for 400m runner Albert Nonino was firmly 'down there' as a 'wardrobe malfunction' hindered his performance in the 400 metres at the U20 World Athletics Championships in Cali, Colombia. I can't put anything else in inverted commas.
This is like one of those horrible dreams you have before a job interview or a date. Sending solidarity Albert. Shush at the back!