'L.A. Confidential' at 25: The movie that should have sunk 'Titanic'
September 19, 2022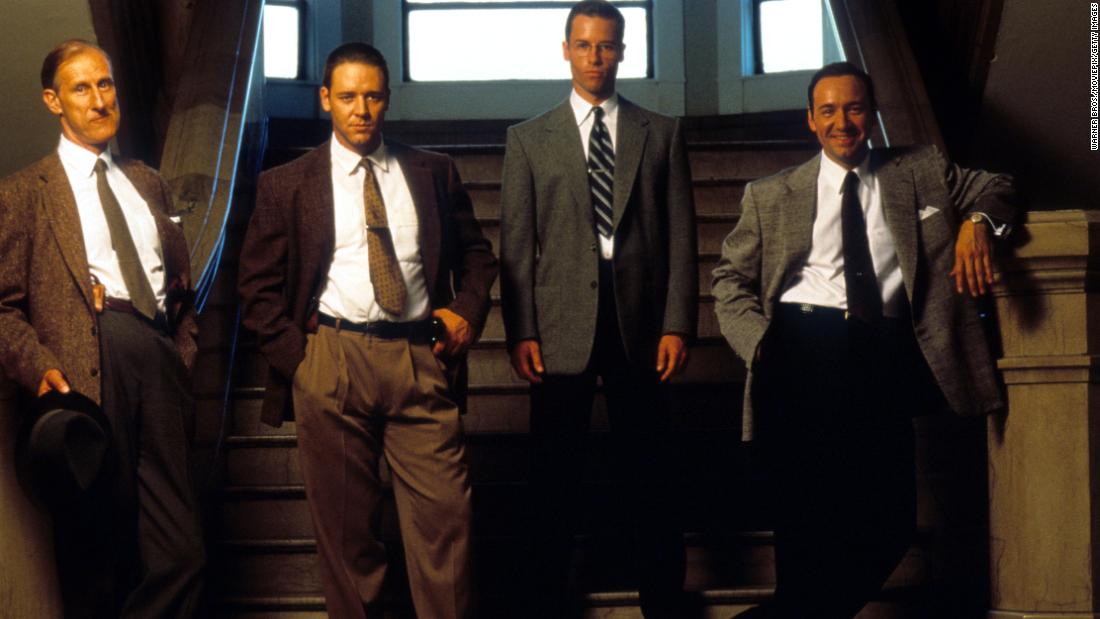 So it's worth a moment, 25 years after its debut, to give some love to "L.A. Confidential," the film noir adaptation of James Ellroy's tale of corruption in the city of Angels that seemingly did everything right, only to be washed over by the understandable wave of enthusiasm that surrounded James Cameron's massive hit, "Titanic."
Directed by the late
Curtis Hanson
, "L.A. Confidential" didn't walk away from the Academy Awards empty handed, taking trophies for adapted screenplay and co-star
Kim Basinger
as the proverbial call girl with a heart of gold, and a striking resemblance to Veronica Lake.
Yet even that doesn't really do justice to a film that transformed a pair of young Australian actors, Russell Crowe and Guy Pearce, into stars, elevated the career of Kevin Spacey (before other
off-screen issues
intervened) and represented the best adaptation of Ellroy's idiosyncratic books, while shining a light on issues like race relations and policing in L.A.'s history.
The basic premise involved stolen heroin from real-life mobster Mickey Cohen, and a series of murders related to the theft and a war to replace Cohen within the city's criminal hierarchy. The investigation eventually swept up a trio of officers, turning them into unlikely allies in seeking to expose the truth.
In
his review
, the late film critic Roger Ebert compared the movie to another enduring classic of the genre, "Chinatown," in its subject matter and tone, calling it "one of the best films of the year."
His review, however, also identified a number of other resonant themes, including the fascination with celebrity and tabloid culture (see Hush-Hush magazine), and an attitude toward people of color in policing that, Ebert noted, "can be seen, perhaps, as the road to Rodney King" — a reference to the Black motorist whose beating at the hands of police, who were subsequently acquitted, triggered the Los Angeles riots of 1992.
There were understandable reasons why Cameron's film — which, interestingly, also wove fiction around a fact-based template — made him "the king of the world" on Oscar night. Epic in length and visually dazzling, the movie played to a wide cross-section of viewers, including teenage girls who flocked to it week after week.
Even so, "L.A. Confidential" remains a movie with nary a wasted scene, a movie that fulfilled its mission so effectively as to serve as a model for countless films that have followed in its footsteps without matching them. Despite talk of a sequel or TV show through the years, those efforts have never materialized, although given the current appetite for identifiable titles, that happy accident probably can't last forever.
As noted, Oscar choices don't always age well, and in the Academy's long history of head scratchers, the "Titanic" choice almost certainly isn't in the top 10. But the outcome of the voting has done nothing to dim the greatness of the movie that it beat.
Being a cop, Pearce's straight-arrow Ed Exley says, is "supposed to be about justice." "Titanic" deserved accolades, but if there were real justice in terms of the 1998 Oscars, when they presented best picture, they would have doled out at least two.
"L.A. Confidential" was released by Warner Bros., which, like CNN, is a unit of Warner Bros. Discovery.